Exhibitor Information
1. Logistics, Customs, Shipping
1) Official Shipping Suppliers
Easy access and exhibition goods transportation can be guaranteed. The Expo 2012 Yeosu's official shipping supplier corporations, Korea Express and Hanjin will offer credible and secure transportation service.
(1) Korea Epress Co., Ltd.
Based on the experience with international logistics over the last 80 years, we have developed various integrated transportation services handling all types of ocean freights such as container freights, ultra-heavy cargo, project cargo, and bulk freights in linkage of port to port or door to door.

Besides, the service is to be reinforced by our best services quality having global visibility system and consulting abilities that make customer's total logistics process efficiently.
(2) Hanjin Express
The Forerunner of Coastal Shipping with 23 Vessels Including the Container Liner.

Hanjin has made a great contribution to the development of the Korean coastal shipping industry since the 1970s by promoting a balanced growth with other modes of transportation.
(3) Logistics, Customs Clearance & Shipping Guidelines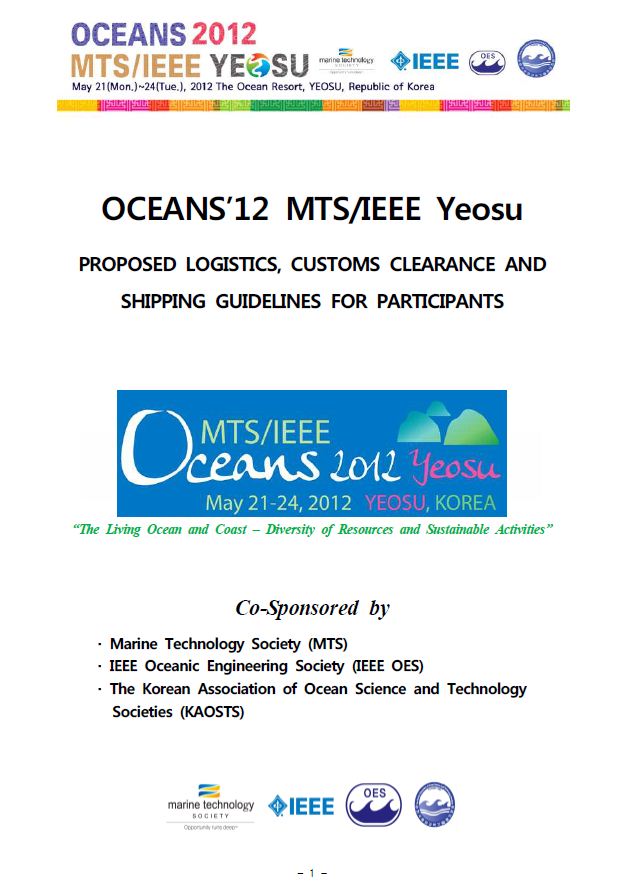 ⇒ Click the Image to Download
(4) Contact Point for Logistics, Customs Clearance & Shipping Guidelines
For any question and/or more information concerning logistics, Customs, Shipping, please contact to:
John Park, Project Manager
Tel. +82-10-4650-3622 Fax. +82-505-720-2012 e-mail. oceans12yeosu@gmail.com
2. Exhibit Hours
1) Booth Set Up
21 May, Monday 9:00 am - 22:00 pm
2) Exhibits Open
8:30 am - 10:00 am [Plenary Session in the Bellaster Hall:
Exhibits must be up and ready as people will be
moving through the area.]
10:30 am - 6:30 pm [Exhibits Open]
5:00 pm - 6:30 pm [Exhibiros Reception]
9:00 am - 5:00 pm [Exhibits Open]
9:00 am - 5:00 pm [Exhibits Open]
3) Dismantle
24 May, Thursday 5:00 pm - 22:00 pm
3. Free Wi-Fi: Wireless Internet Aceess
There will be complimentary wireless in the exhibit areas during the conference.
If you have additional internet needs, please contact to secetariat of OCEANS'12 MTS/IEEE Yeosu as below.
4. Payment Method of Booth Participation Fee
1) Credit Card
(1) USD: Available only VISA, MASTER, JCB
(2) KRW: Available only KB Kookmin, Shinhan, Hyundai, Korea Exchange Bank, Lotte
1) Bank Transfer
(1) Foreigner Exhibitor (USD)
Account Holder: KAOSTS (OCEANS)

Account Number: 180-005-798709

Name of Bank: SHINHAN Bank

Swift Code: SHBKKRSE

Bank Address: 120, 2-GA TAEPYUNG-RO, CHUNG-GU, SEOUL, SOUTH KOREA
(2) Korean Exhibitor (KRW)
예금주: (사)한국해양과학기술협의회1(오션스)

계좌번호: 468401-04-146848

은행명: 국민은행